LJ Engineering was started in Jeff's small 2700 square foot shop behind his house in 1985. Jeff would work on the race cars as a hobby, while working as a heavy equipment operator by day. Soon Jeff started working on hot rods as well as performance cars. Soon he was overwhelmed by the amount of work he had at home, while his hours were constantly being cut in construction. He realized it was time to open LJ Engineering full time.




It began as a race car and hot rod shop, but soon the hot rod owners needed repairs and maintenance on their every day drivers. Soon the business expanded with the newly acquired business of repairing all makes and models. The business continued out of Jeff's garage for several years until it was time to expand.
With his eye on the old Valley Auto Body shop on 4th and Yucaipa Blvd., Jeff stopped in one day to sit down and haggle the purchase of the property. In 1994 Jeff moved LJ Engineering to 12063 4th ST. Yucaipa, Ca 92399. This 5,000 square foot shop quickly filled up and has been serving the people of Yucaipa ever since. To this day, we have customers bringing hot rods from all over Southern California.
Jeff has been owner and crew chief of stock cars for 25+ years running stock cars of all classes at the local short tracks then moving up to the bigger tracks, including Mesa Marin in Bakersfield, Bull Rings in Vegas, to the half mile of Meridian, Utah, and Toyota Speedway at Irwindale.
Jeff has been crew chief for the 1706 Jeepspeed race jeep. He has led the team to win the Parker 425 in 2008, and won the Baja 1000 in 2009 and 2010.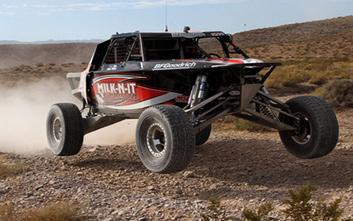 Jeff opened LJ Engineering in 1991. Since then he has been providing excellent service and offering outstanding value to neighbors throughout Yucaipa. Questions? Call Jeff at (909) 790-9283. We are independently owned and operated!